Mr Tham Kok Peng, Senior Assistant for Student Affairs of Catholic High School, Petaling Jaya was given a most touching and memorable retirement ceremony by the school on 17March 2017.
The Board of Governors, Marist Brothers, the Alumni, PTA, ex-colleagues and former principals, administrators, staff and students showed great care and love in appreciation of Mr Tham's tenure in CHSPJ. Many interesting programmes were carefully planned to ensure Mr.Tham left the school with priceless moments to cherish.
Mr Tham is well known for his regular use of acronyms whenever he speaks in any occasion in school. For example, UMNO means U Must Not Overwork or MMI which he literally translated to "Masa Melindungi Isteri" instead of Masa Melindungi Instrucktional. He is also well known for his "V" gesture to display his carefree attitude towards his strenuous job.
As he clocks out of the school for the last time, teachers and students lined up along the main school drive way to the school gate to bade farewell to Mr Tham with loving hugs and well wishes.
Moving forward, it is "Goodbye Tension, Hello Pension!" for Mr Tham. He has a new list of KPIs to achieve during his retirement, especially "Masa Melindungi Isteri".
CHS hope that Mr Tham will enjoy his much deserved new life.
"
Happy Retirement, Mr Tham and all the best!
"
Pengumuman Keputusan SPM 2016
16 Mac 2017
全校考生当中,成绩考获9A以上有195人,总考生人数的38.09%。其中有两位学生更选为雪州最佳考生,她们是荘慧意和余愷濬。
在SPM 18 个科目中,公教共有12个科目考获100%及格率,这些科目是国文、英文、数学、科学、物理、化学、生物、美术、回教、中国文学、科技文学、圣经知识。其余6个科目也取得理想成绩,包括道德教育、历史各99.8%、附加数学98.9%、会计98.6%、经济99.3%及华文99.0%。值得一提的是, 数学和英文各取得GPMP 0.78 的佳绩。
校长罗彩洁表示,很高兴看到本校取得这么亮丽成绩, 这应该是历年来最佳成绩。这是本校四大机构、家教协会、老师、家长的配合和同学们的努力才能有今天的成绩。希望来届的考生向学长和学姐们看齐,继续努力考 获佳绩。
本校前校长王文坂,也表示考生考获好成绩是作为他退休的最好礼物。他祝贺所有的考生。

Majlis Persaraan Datin Sivaneswari
15 Mac 2017

Biology teacher Datin Sivaneswari A/P S.S Pillay said goodbye to everyone at SMJK Katholik, Petaling Jaya with a heavy heart upon his retirement day which was on 15March 2017. After all, she had spent her entire teaching career spanning 34 years at the school. She is currently the longest serving teacher of the school. She retired as the head of the SPBT and head of teacher advisor of Interact Club.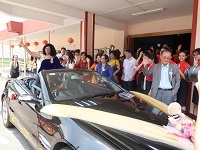 A special assembly was held to send her off. It was attended by the Board of Governors, Marist Brothers, the Alumin, PTA, Rotary Club of Petaling Jaya, teachers and about 1500 students, who presented Datin with gifts as a show of their appreciation. There were performances by teachers and students during the ceremony.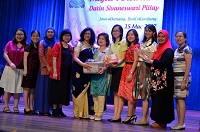 During her speech, Datin Sivanes hope that students will do all their best in their undertakings and find passion in doing them.Our Principal Pn.Low Lai Khun said, "Being a hardworking teacher, Datin has always been totally responsible in discharging her duties." "She is an asset to our school and she will truly be missed by all of us in CHS as her commitment to her work has always been exemplary to all."